Class Descriptions
CASH OR CHECK ONLY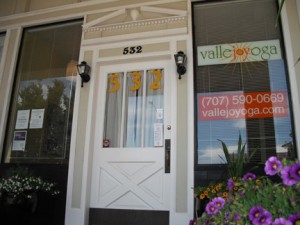 (in alphabetical order)
Candlelight Stretch Deeply; Relax Completely!
Beginners~Level 3
Friday, 6:00-7:15 pm
Dissolve the stress of your week and begin your weekend refreshed! Combines Yin Yoga's introspective focus and emphasis on joints and connective tissue with Restorative Yoga's supportive, quiet poses for deep physical and mental relaxation. Taught by Rhonda.
Candlelight Stretch, Relax & Meditate
All Levels Welcome
Wednesday, 7:00-8:00 pm. 
A slow and steady class that begins with a guided relaxation helping you to relax and let go.  Taught by Sara.
Donation Community Yoga for All Class
Beginners and All Levels Welcome
Sunday 12:00-1:00 pm; teachers vary
Tuesday 11:00 am-12:00 pm; taught by Amy
Wednesday 5:45-6:45 pm; taught by Sara/Kryss
Donation Community Yoga for All is open to everyone, including beginners.  Suggested Donation $10.  More info here. Teachers may vary.
Donation Mom & Baby Yoga
Yoga Belly Project
Monday, 11:00 am-12:00 pm 
Mom & Baby yoga classes are a very comfortable, supportive environment where moms can meet other women, enjoy special times with their babies, and experience the benefits of yoga without worrying about babies "bothering" others.  These classes will focus on postnatal recovery and supporting the changes in your body after giving birth.  Dads and other family caregivers are welcome! Bring a blanket for your baby.  No prior yoga experience necessary. You and your newborn are welcome and may participate as gently as you like; if you have questions about when to start, do ask your midwife or doctor.  Taught by Sara.
Donation Prenatal Yoga
Yoga Belly Project
Sunday, 5:15-6:15 pm 
This class is designed to introduce women to Prenatal Yoga, meditation and mindfulness practices that will help during pregnancy and beyond.  These courses will offer a community to pregnant women to share their worries, concerns and triumphs during pregnancy.  This class is available as a free walk-in class; donations to Yoga Belly Project are always appreciated and will help to continue the work of Yoga Belly Project.
Yoga Belly Project is a nonprofit organization providing Prenatal Yoga, Mom and Baby Yoga and Doula Support Services for women and families in the San Francisco Bay Area.­­­  The Project will form partnerships with local Yoga Studios and Health Centers to provide free and discounted services to low-income women and families. Taught by Sara.
Gentle Yoga
Perfect for Seniors and Everyone Else
Wednesday, 9:15-10:30 am; taught by Dariece
Friday, 9:15-10:30 am; taught by Amy
Gentler and slower paced makes this class accessible to people of all ages, sizes and fitness levels.
Hatha Yoga
All levels welcome
Tuesday, Hatha I, 9:15-10:30 am
This gently paced class starts off with basic breath work (pranayama) and moving into a well rounded class of postures designed to lightly awaken the body. Finishing with a brief meditation and a rejuvenating rest (savasana).  Taught by Amy.
Hot & Happy Hour
Level 1-3
Tuesday, 5:45-6:45 pm
This Hot & Happy Hour offers the element of HEAT as an ally for One's Yoga practice by enhancing flexibility for dropping deeper into poses and guaranteeing sweat for increased detoxification of the body. This class combines Vinyasa flow, balancing poses, Pranayama, deep stretching, and self massage with a variety of music, resulting in an experience that is sure to give you what you need on one level or another. Prior yoga experience is recommended.   Room heated to 90°.  Taught by Susan.

Introduction to Yoga 4-Week Series
Beginners~Level 1
Monday Night Series of Four Classes: November 6-27, 2017, 7:15-8:30 pm. Currently registering for this series.
This progressive four-week series is designed to give you the basics of yogic body and breath awareness, and the poses that make up the foundation of a well-rounded yoga practice. You will also begin to build strength and flexibility, as well as learning to modify poses for your body, integrating any injuries or limitations. Taught by Dominique in October. Pre-payment/registration required. Registration fee: $60. How to register. Please Note: There are no drop-ins, make-up classes, refunds or credits available for missed classes.
Iyengar Inspired Yoga
Beginners~Level 3
Monday, 5:45-6:45 pm
Thursday, 6:30-8:00 pm
Yoga taught in the style of B.K.S. Iyengar. This class is informative and engaging with clear and precise instruction that focuses on posture and body alignment. It is open to people of all ages and abilities. The use of props or supports may be used, allowing people with limited abilities or confidence to start practicing yoga and progress. Taught by Bernard.
Positive Kids Yoga Series
Ages 4-11
Series of Four Classes: November 8 – 29, 2017; Wednesday, 4:00-5:00 pm. Currently registering for this series.
A fun and interactive way to introduce children (ages 4-11) to yoga as we explore postures, mindfulness and art projects! Pre-payment/pre-registration required. Registration fee: $50. Click here for info on how to register.  Taught by Kryss.
Please Note: There are no make-up classes, refunds or credits available for missed classes.
Sattva Saturday
Beginners~Level 3
Saturday, 10:15-11:30 am
Discover the balanced union of body, mind and heart through poses, breath work and meditative flow. Sattva is a Sanskrit word that describes the state of attention without tension: a balance between effort and effortlessness, between rising to a challenge and simply letting go. Move from stress, stiffness, agitation and worry to calmness and deep inner peace. Taught by Rhonda.
Sunrise Flow
Level 1~3 (Not for beginners)
Saturday, 8:30-9:45 am
Get ready to build heat, strength and suppleness in this invigorating class. Integration of a stimulating flow–along with a focus on alignment, breath and meditation–make this fun class challenging for all. Class may include a variety of musical themes, from traditional Indian music to The Beatles. Taught by Dariece.
Svastha Yoga
Beginners~Level 3
Thursday, 9:15-10:30 am
In Sanskrit the word Svastha means "to stay as yourself" and refers to complete health and balance in body and mind.  Class begins with a short talk/discussion followed by asana (poses), pranayama (breath), chanting mantra and meditation. Taught by Dariece.
Yoga Blend
Level 1~3
Monday, 9:15-10:30 am
Drawing from various styles of yoga and incorporating aspects from each, this mixed levels class is intended to strengthen your body, increase your flexibility and improve your health. Classes are often thematic; routinely include breath work and simple meditation, and always a restful savasana (extended relaxation). Taught by Dariece.
Yoga for EveryBody
Beginners~Level 3
Sunday, 10:15-11:30 am; taught by Dariece
Tuesday, 7:15-8:30 pm; taught by Rhonda
A welcoming and safe space for all regardless of your size, shape, or ability.  Starting where you are, this class offers you the chance to safely build flexibility, strength, and a sense of humor as you use props, individual attention, and deep relaxation to find your yoga.
Yoga Flow
Beginners~Advanced Students
Friday, 10:45 am – 12:00 pm
Build strength, stamina, and clarity while mindfully moving through this strong foundational flow class. Based in the ashtanga vinyasa system, we will marry the breath to the movement to create a meditation of movement.  Taught by Amy.